Manipulative accusations in the address of of the Special Operations Regiment AZOV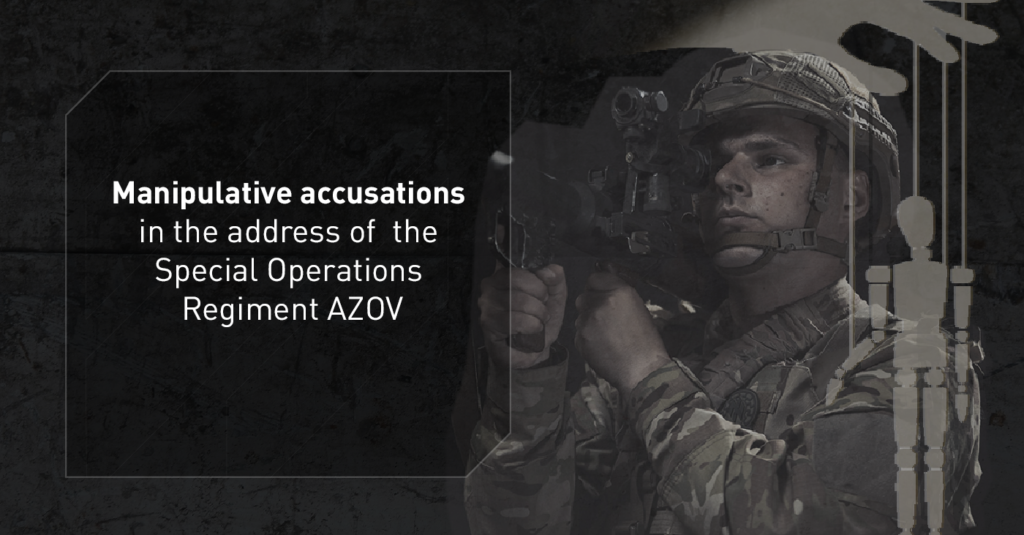 ---
On March 22, 2019 on the web-page of the online edition "The Cipher Brief" the article "The Transnational Network That Nobody is Talking About" was published. It included unattested information that contains manipulative accusations in the address of of the Special Operations Regiment . Website link.
We appealled to the editor of "The Cipher Brief" with the requirement to publish a refutation of the article.
This letter is an official response of the Special Operations Regiment "Azov" to this article:
"For 5 years already, Ukraine has been defending its own lands from the Russian military aggression. The volunteer movement performs a crucial role in countering Russia's aggression. "Azov" is one of the units which was formed from volunteers.
The Special Operations Regiment "Azov" is an official formation of the National Guard of Ukraine. Starting from 2014, "Azov" liberated such occupied Ukrainian cities as Mariupol and Marinka, took part in the battle of Ilovaisk and the defense of Mariupol."Azov"also liberated 5 towns (Pavlopil', Kominternove, Berdianske, Shyrokyne and Lebedynske) during the Shyrokyne offensive operation. Now Azov regiment continues executing the combat mission in the territory of Eastern Ukraine near Svitlodarsk.
The Special Operations Regiment "Azov" performs only those functions that are assigned to it as a regular unit of the National Guard of Ukraine.
We decisively reject any allegations of conducting "paramilitary" activities and "forming a transnational extremist organization."
The so-called "Western Outreach Office" aims exclusively at covering the combat path of the unit and opposing the Russian information propaganda to discredit the defenders of the territorial integrity of Ukraine.
The activities of a small number of foreigners who contacted the unit consisted exceptionally in providing volunteer assistance and fulfilling the instructor duties.
Ukrainian legislation prescribes an extremely complicated procedure of the legalization of foreigners as official soldiers.
"Azov" does not conduct and has never conducted campaigns for recruiting foreigners into the unit.
We officially declare that terrorist Brenton Tarrant, whose actions we condemn, has no relation to "Azov," has never been its member and has never been in contact with representatives of the unit.
The "Azov" separate unit of special purpose performs exclusively the tasks connected with the defense of the territorial integrity of Ukraine and does not engage in any international activity related to political issues."
---