STATEMENT OF THE AZOV REGIMENT REGARDING THE APPEAL OF MEMBERS OF THE HOUSE OF REPRESENTATIVES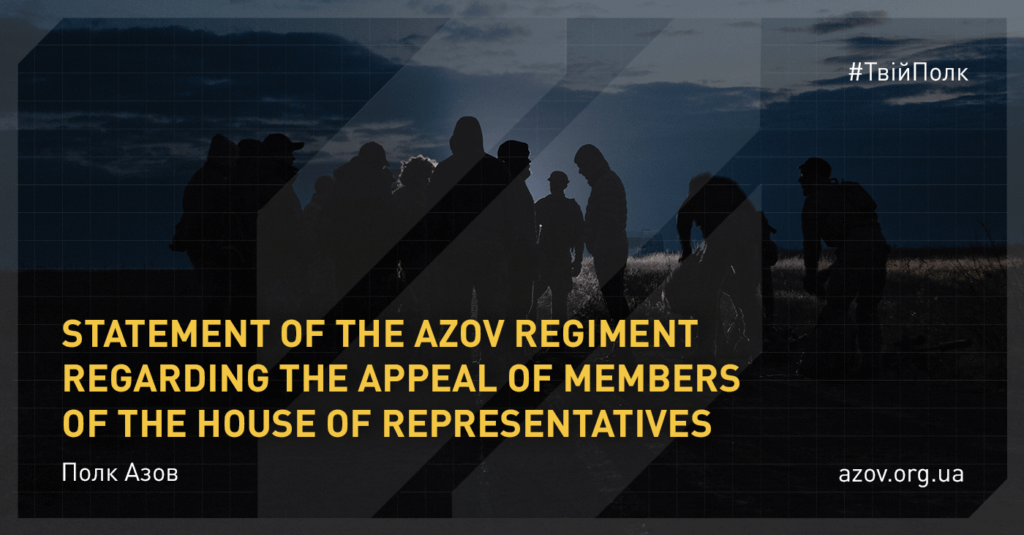 Notable publicity these days received the appeal of 40 members of the US representatives to recognize the Azov Regiment as a terrorist organization. The management of the Azov Regiment states that this appeal is nothing more than an information attack on Ukraine, its sovereignty and state security.
Azov Regiment is one of the most well-known and most capable Ukrainian units. It earned the respect of millions of Ukrainians, including those living outside of the country, for it's fighting glory. It was Azov, who released Mariupol in 2014 and launched a successful offensive in Pavlopil-Shyrokino in 2015. From the beginning of this year until September, the Azov fighters carried on service at the advanced OOS in the Svetlodar Arc area, where they brilliantly performed more than one combat operation and inflicted countless irreparable losses. Our regiment repeatedly proved loyalty to Ukraine and the Ukrainian people, and demonstrated its willingness to fight for the Motherland in order to completely destroy the Russian occupier on our land.
The Azov Regiment, as the official structure of the National Guard, reports to the Ministry of Internal Affairs of Ukraine and the General Staff, so we believe that by equating Azov to terrorists, 40 members of the US House of Representatives equated to terrorists all other Ukrainian units defending Ukraine at the front. The reason, which allegedly gave rise to such appeals in the US, is considered utter nonsense, because no evidence of the Azov unit's involvement in terrorist acts in New Zealand has ever existed in nature and is a banal lie and slander. We would like to remind you that similar statements already took place in the United States in 2015-16. At that time, attempts to denigrate Azov resembled a work of pro-Russian propaganda, and they were not destined to succeed.
Azov, for its part, continues to renew its combat capability today after spending the last eight months at zero, and is preparing to perform new combat missions.